Club Fees
Where does the money go?
The club is run voluntarily with all accumulated proceeds being spent on expenses and equipment. No wage or expense is paid for tuition.
Cost
Individual lessons cost £4.50 for 2 hours
These are on a pay-as-you-go basis
Insurance
Each person needs to be covered by member to member liability insurance to participate in martial arts.
To ensure you enjoy the class and want to continue coming we provide student insurance for free for the first three weeks.
After this a charge of £20per annum is required which includes CJSKD membership, British Martial Arts and Boxing Association (BMABA) student licence, BMABA student insurance, fully recognised grades, a hardback licence book and a Gi patch.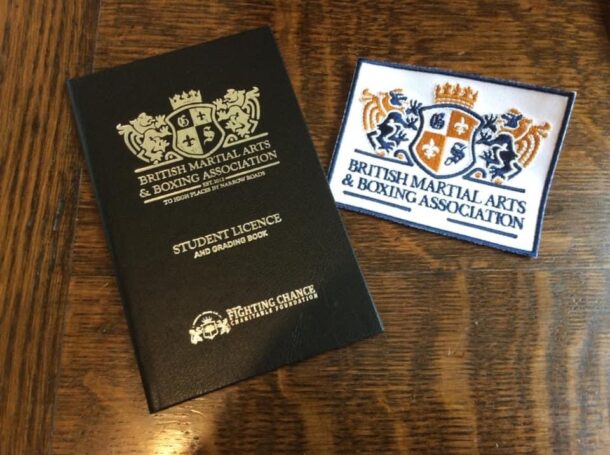 Grading
When you grade for your next belt you will have to pay a fee. Grading prices vary based on the length of time the grading can take, not based on the rank of the grading itself.
Our gradings are charged at £20 for all Kyu grades.
Our gradings are charged at £30 for 1st, 2nd and 3rd Dan gradings.
Our gradings are charged at £40 for 4th Dan and above.
The grading fee helps cover the cost of the room and also includes your certificate, belt and recognition with the British Martial Arts and Boxing Association (BMABA).
Gradings are structured but people progress at different speeds. There is a minimum amount of time between gradings but no maximum.
Uniform
For the general class we wear a Karate Gi. You will need a Karate Gi to be able to take your first grading but this will not be expected to be worn until after you have purchased your student insurance. Below you can see a group picture of some of our members each wearing their Karate Gi.
The above picture shows a mix of our 2016-2018 uniform and the 2019> uniform. The later uniform has the updated BMABA patch on their right sleeve and a CJSKD patch on their left crest. If you want the CJSKD logo on your gi, for cost price you can have it embroidered or we can order you a patch which you need to sew on yourself.
For comfort and safety each new member is required to wear jogging bottoms and a plain t shirt. This is also the uniform we wear on our dedicated Street Defence nights as seen below.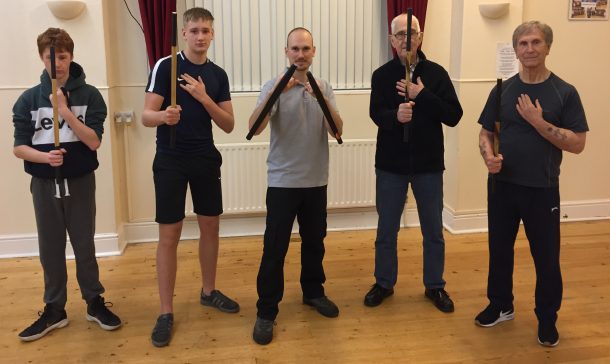 We are not a supplier of martial arts equipment but we are happy to recommend companies that do and can guide you through the ordering process.